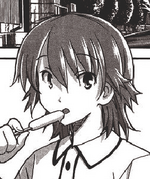 Kaoru Yumeno is a male character in the Uwakoi manga. He first appears in chapter 8.
Personality
Edit
He is mainly polite, optimistic and freindly, but also extremely erotic. He has gained muliple girlfriends about his age just from his "cute" smiley looks.
Appearance
Edit
He is short and thin, with scruffy light-brown colored hair brushed down. He is often seen with an ice lolly.
Hobbies and interests
Edit
Unknown.
He has an older sister Kaori. Nothing is known about his parents.
See also
Edit
Ad blocker interference detected!
Wikia is a free-to-use site that makes money from advertising. We have a modified experience for viewers using ad blockers

Wikia is not accessible if you've made further modifications. Remove the custom ad blocker rule(s) and the page will load as expected.