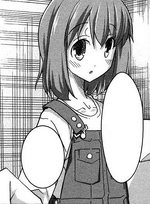 Nabatame Shion
is a male character in the
Uwakoi
manga. He first appears in
chapter
23.
Personality
Edit
Given Shion's very young age and corresponding "cute" and/or "innocent" appearance, he is unusually erotic, uses very abusive language (e.g. "bitch pigs"), and is generally arrogant and emotionally charged. He seems to dislike Usui Aruto, and calls him "leaky" due to Aruto's premature ejaculation. Shion is so erotic and arrogant that he offers fellatio to Aruto, much to the latter's distaste since Aruto naturally prefers girls.
Hobbies and interests
Edit
None are known.
Appearance
Edit
Since he is a young child, he is short and slim. Long brown-gold hair of shoulder-length falling neatly down. He has an androgynous appearance. He wears clothes which are a bit too large for him, as his hands are usually under his draping sleeves.
No members are known.
See also
Edit